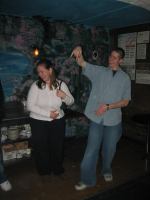 Well, once again, it's been a terribly long time since I've written anything, and a whole lot has happened to me. I've been to dicky's twice, both times had quite a bit of fun, and went to bliss and spun at the Rocket Cafe again.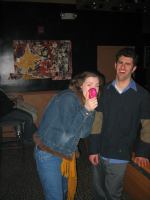 On saturday, I played pool (again) at Jillians, and went out to Jungle Bums to see some of the DJ's who were playing there. Unfortunatly, the sound system in the main room was really crappy. Bad balance between the tables and the MC's, no real base definition, and definetly no volume. However, the sound system downstairs was out of control, and definetly banging. Granted it was a little bit boomy because it was in a solid brick wall basement backed by soil, and it could have used a few heavy base traps hidden throughout, it was still much better than upstairs.
People were dancing their legs off most of the night to DJ Mighty, Owen the Soyboy, Richie, and quite a few others. Track selection was on tip, although a few times the mixes got a bit rough. But who cares? I danced, and had a great time.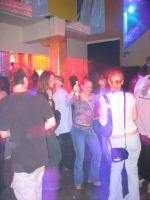 On sunday I ended up watching Rouge [of the Rougue, Blanc, and Bleu series]. Quite nice, although I must confess, of the two that I've seen, I like Blanc better. I'm also slowly introducing Raphael to Anime, as we watched a few more episodes of Escaflowne.