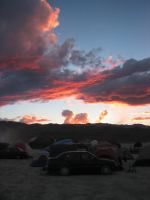 I recently got back from a really exciting trip to the Black Rock Desert in Nevada, just outside of Gerlach, for Burning Man. Chris Martin and myself left from San Fransisco early Sunday morning, and got into camp at Big Time (9:30 and Sedna) a few hours before the sun started to set, which was really awesome. Along the way, we had a bit of fun with my car, as I managed to tweak the left front control arm pretty hard against a bank on a dirt road. Luckily, the car was still driveable, albeit badly, after that incident.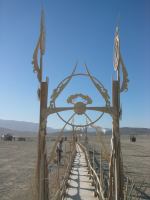 The first few days we helped set up the camp, and spent the nights wandering around the playa checking out the parties and the various installations. This was my first time at Burning Man, and the lengths to which people go to present themselves, their artwork, their camp, and to just have a great time are astounding. Almost everyone is dressed up, or has lights, or is having a great time. It doesn't matter when, day or night, someone is up and wandering around in great spirits.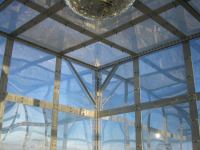 Many of the art installations that I happened across were absolutely fantastic. Observer Observed, which the picture on the left (and it's reflections belong to) was an absolutely fantastic cube of half silvered lexan in the middle of the desert that picked up the reflections all around, both of the temple and of the setting sun in the background. From inside, you can actually see out, although a shadowy reflection of yourself is also projected on whatever is outside.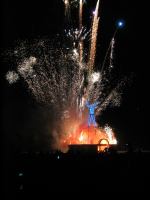 Of course, the man itself burning on saturday night is a really important part of the festivities. I'm told that the man wasn't as impressive this year as it has been in the past, but still, the concept of a huge structure that is only built to be burned in a celebration is rather impressive, even if the flames only reached a few hundred feet into the air instead of thousands.